Vroom vroom
I have had a few cars over the years. Each with its own interesting stories.
I have had a few cars over the years. Each with its own interesting stories.
Ice Dream
My first car (Ice Dream) was a sparkly sky-blue 1986 Toyota Camry inherited from my grandmother after she passed. For the low-low price of $1, I acquired this vehicle in the late 1990s when I was just 15 years old.
This car served me through high school, took me to and from various jobs, and accompanied me through my fair share of problematic choices.
I didn't quite take care of this car though. I didn't know or respect the value I had. I drove without insurance (which I couldn't afford) and ultimately had my driver's license revoked as a result. The car sat idle too long in my apartment's parking lot while my unheralded friends and coworkers shuffled me around for a few years.
Forest
Forest was my second car. A 1996 forest green Honda Accord. This car I snagged in mid-2003 with financial backing from my mom (thanks mom).
Not even 2 months into ownership, on a drive to work Forest and I were involved in an accident where I, along with several others) were crashed into by an uninsured driver barreling down the highway while traffic was at a standstill.
Forest had a few other bumps and bruises along the way, but no major mechanical issues. My friend and roommate helped re-seat the left rear bumper using a wire hanger and a beer bottle cap. Innovation at its finest.
Comfortable, fuel-efficient, and reliable, I would go on to drive Forest until September 2008. I never did get the bumper properly repaired.
Forest retired as a trade-in for my next car.
Sempai
The first vehicle bought entirely on my own, Sempai was a nearly new 2008 Nissan Altima that was a retired dealership loaner with just about 12k miles on it.
A few weeks after purchase, the water pump dropped right out of the engine while I was driving. Thankfully still covered under warranty, this was fixed and I was back on the road. Over time I had only basic maintenance and some minor repair needs.
Sempai and I lasted 15 years together, to roughly 155k miles. We'd been at 5 different home addresses, across 8 jobs including a couple of career pivots.
Sempai died in June 2022 and was donated to Kars4Kids.
What's Next?
Back around 2018, I discovered the Volvo xc40. I've never really liked SUVs, and I'd never considered Volvo from an ownership perspective. But something about the xc40 spoke to me.
The xc40 was in its first model year at the time, and I wasn't really in a position or state of mind to buy a new vehicle. Still, I test-drove the xc40 and others in its class of both luxury and non-luxury brands and found the xc40 to be the most compelling for my needs.
Four years later, when Sempai died, I knew exactly what I wanted, a 2019 or 2020 xc40. I looked high, and I looked low. I scoured the internet for dealers and private sellers. Within 500 miles I found only two within the target years, and both out of my price range.
Not only are the xc40s hot on the market but the chip shortages and general state of the used car market in 2022 made this a disadvantageous time to be looking for a vehicle.
However, I did find several other vehicles.
The first was a black 2020 Volvo S90 T6 Inscription, the top trim of the high-end Volvo sedan. It looked incredible, but had been in at least one serious collision and still showed some engine and system warnings. I just wasn't willing to even test-drive it until those were fixed.
The second was a white 2018 Volvo xc60 T5 Momentum, the xc40's slightly larger sibling. The drive and ride were good, comfortable, and smooth. But the xc60 just felt bigger than I wanted. Despite the temptation, I moved on from this vehicle.
I also saw a 2019 Volvo S60 T5 Momentum, the base trim of Volvo's mid-tier sedan. Comfortable, quiet, smooth, and sleek.
But was it what I wanted? Should I look at other vehicles?
I presumed I should. And chose a few other brands to experience before ultimately making a decision.
💬
I chose to consider new vehicles instead of used ones because if I was going to compromise, they should come with plenty of warranty for added peace of mind.
Hyundai
The 2022 Hyundai Tucson Hybrid has a sleek look, colors I like, and solid mixed-mode mileage. I liked the interior, but the tech package and other amenities left me wanting more.
Kia
The 2022 Kia Stinger drew my attention with its body styling and generous performance. The interior leader was good but other amenities were extra and inflated the price too much. A worthy contender on the sedan side of things.
Subaru
The 2023 Subaru Outback isn't my favorite body styling. But Subaru is a well-regarded brand and is recommended by some friends. There's certainly something to like. The interior is stylish and comfortable, and the tech package is pretty good. But sadly, I didn't feel any emotional connection to the vehicles when driving them, which kind of made the decision easy.
Obsidian
Enter Obsidian, the latest member of my esteemed vehicle lineage, and a 2019 Volvo S60 T5 Momentum, the first to not be of Japanese make.
Obsidian is only three months old for me but is already my favorite of all the cars I've had. Comfortable, stylish, and both refined and fun.
The 2019 model year was prior to Apple's Wireless CarPlay feature being released, but wired CarPlay is supported, which would have been a deal-breaker.
The heated seats and steering wheel were welcome niceties for the colder winter months. I'd have probably kept looking for a different S60 had it not been for these being included. These were upgrades in all the other vehicles I looked at.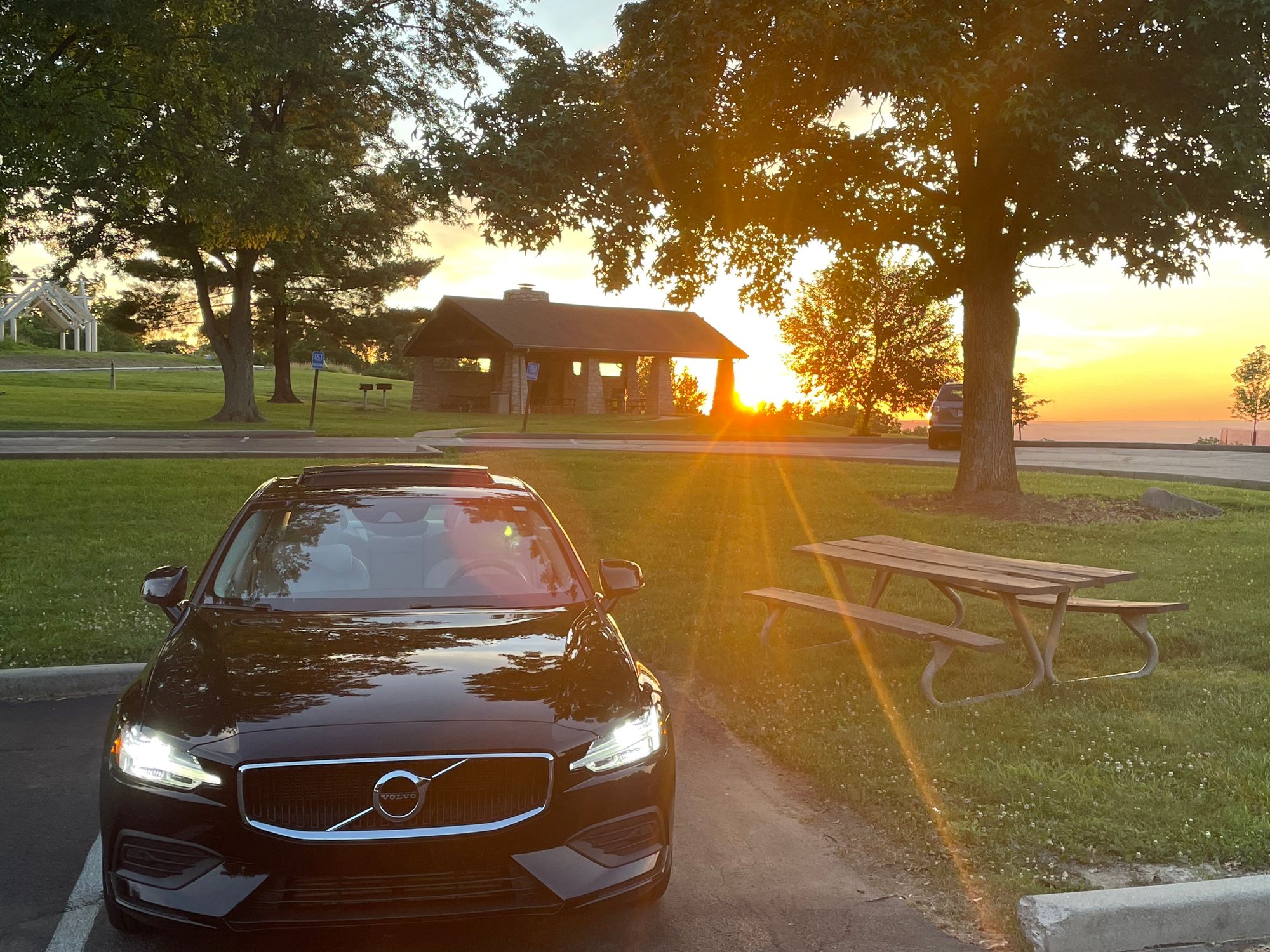 I love being able to stop/start and lock/unlock the car from an app on my phone. I can also get general vehicle details such as mileage, fuel range, and other information via the mobile app. This is a useful feature and not something supported by the non-Volvo vehicles I considered.
I love the dark exterior paired with the light interior, there's something space-age about the aesthetic. The body color I most prefer in these model years is Denim Blue, though the blond interior Obsidian has would be replaced by something closer to tan or brown preferably. And the "Thor's Hammer" headlights are sexy.
I have made a couple of adjustments post-purchase. I ordered some OEM accessories from Volvo Swag, including a sunglass holder, and front and rear mudguards. I also slapped a Prancing Moose decal on the rear which looks phenomenal (though maybe 0.5 degrees off kilter).
Ultimately, I'm very attracted to the Scandanavian styling of the Volvos, both inside and out. The details in the vehicle are superbly integrated and minimalist.
I don't regret my purchase one bit, but I have to admit I am looking forward to trading up to an xc40 in a few years for the joy I feel simply sitting in one.
Until then, Obsidian and I will be the best of friends.