Tea Time With MidJourney
In this post, we craft an advertising campaign for the tea industry using MidJourney to generate high-quality imagery, and some minor typographical overlay work in Adobe Photoshop.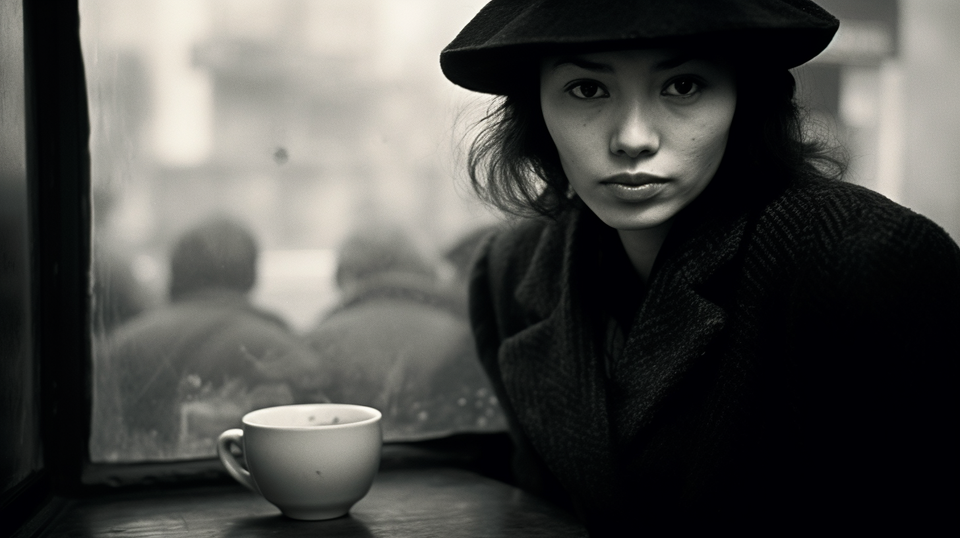 If you're new to following me, you may not be aware of my decades-long fascination, ne' obsession with tea.
The world's favorite and oldest recreational beverage has long been a hobby of mine. I blogged on the topic on Tea-Guy.com from 2008 until just last year. I attended the World Tea Expo from 2008 until 2016. And I still have more than 700 unique teas at home.
Along my journey with tea, I envisioned an advertising campaign to connect people with tea varieties and the many people and cultures that imbibe tea. It's a genuinely wonderful product.
My envisioned campaign would have been expensive to produce then, requiring photographers, models, various shoots, style variations, and probably different physical locations worldwide.
This has changed dramatically with the power of generative AI tools such as MidJourney. I only need to research photography and lighting styles, cultural standards, and maybe specific locations.
Here, I'm going to set a few standards for the campaign:
Black & white or very limited colors
A preference for showing the unexpected (a body-builder in a Victorian tea cafe?)
Solitary persons or small groups (2-4 only)
Candid photography, no poses or plastic marketing emotions
Formatted for Instagram with a 4:5 aspect ratio (standard for IG)
There are great online resources for researching different accomplished photographers and their styles. Here are some of my favorites which will be used in the campaign:
Street Photographers
Saul Leiter
Robert Doisneau
Fan Ho
Garry Winogrand
Portrait Photographers
Akos Major
Albert Watson
Anders Petersen
Ansel Adams
Don McCullin
Katia Chausheva
Martin Schoeller
Terry Richardson
Because MidJourney isn't limited to personal vision or subject to habits and expectations, we can also combine multiple photography styles in a single prompt.
To use a Photographer's style in MidJourney, add the phrase in the style of and the photographer's name to your prompt. You can mix photographer styles by adding multiple names, though I usually will adjust my prompt text to include in the combined styles of name and name.
☑️
Important note that if you misspell the name of an artist, photographer, or other person, MidJourney will approximate your intent, but your results will likely be less precise to your vision.
The Campaign
A marketing campaign has to be identifiable and generally provide a call to action for the intended customer. This usually comes as a statement or brand label that people might recognize. Think of Nike or BMW, for example. Or if for an industry, the campaign may be a question like "Got Milk?"
For this campaign, we'll ask a simple "What's your cuppa?", a command to "Drink another serving of tea each day," and include a URL. It doesn't need to be fancy to be memorable and get people to do what we want, hopefully.
Here's what that might look like, with some minimum variation based on image composition.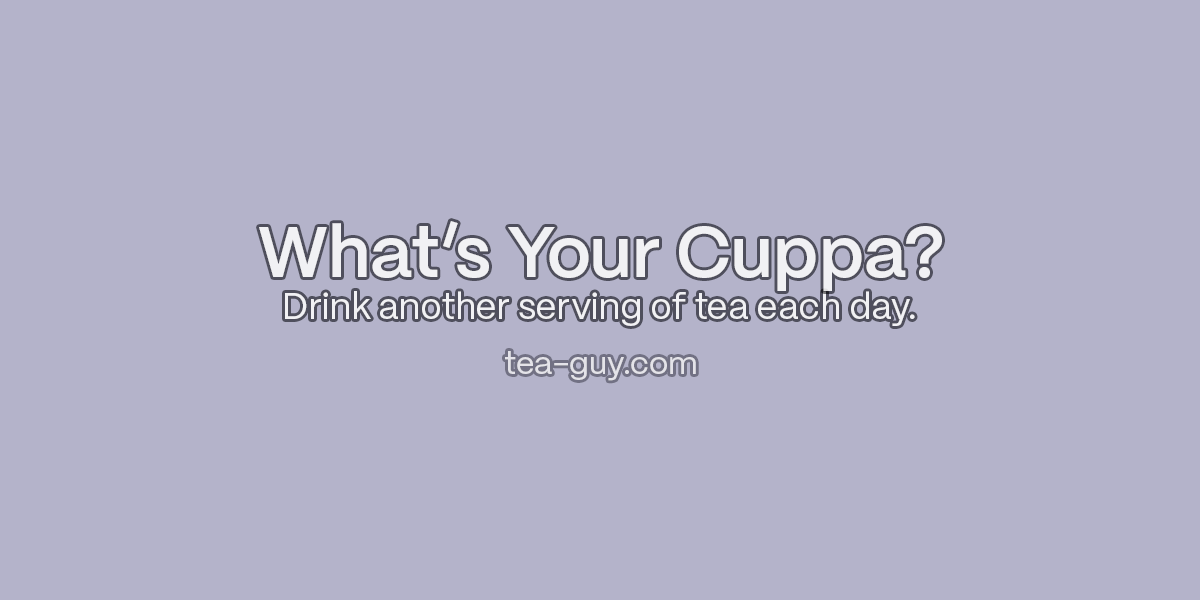 The Prompts
The images in the galleries on this page have some variation on one of the following prompts. Because I performed a wide variety of tweaks to adjust for ethnicity, age, location, and other factors, it would take significant page space to list them all.
🧠
A scene outside a quiet city cafe mid-afternoon focused on a stylish and fit man who is 6 foot tall with a well-trimmed beard and long hair, large muscles, and vivid tribal tattoos sipping hot Japanese tea with a look of satisfaction in his eyes and a relaxed smile on his face. In the combined styles of Fan Ho, Saul Leiter, and Robert Doisneau. --ar 4:5
🧠
Atmospheric Photography in the styles of Fan Ho, Saul Leiter, and Robert Doisneau. Pointillism, Atmospheric, bokeh, 1980s, Dutch Angle, Tilted, woman drinking tea. --ar 4:5
🧠
A close - up portrait of a beautiful tattooed bipoc woman in her forties, in a cafe sipping tea. Viral, Instagram Candid street photography. In the combined styles of Saul Leiter and Robert Doisneau. --ar 4:5
🧠
A close-up portrait of an Indian chaiwala busily serves tea from his stall, located on a side street of Delhi in the early morning hours. Candid street photography. In the style of Garry Winogrand. --ar 4:5
Galleries
The following galleries contain custom-generated images made with MidJourney using variations of prompts like the ones listed above.
The images have been altered to include the marketing tag "What's your cuppa?" and the tea-guy.com web URL, which leads back to this website, specifically to the "tags" page for my tea-related posts.
These are the only changes made to these images. The originals can be found on my MidJourney profile, where you can filter for "tea" to see all the results, many of which were not included.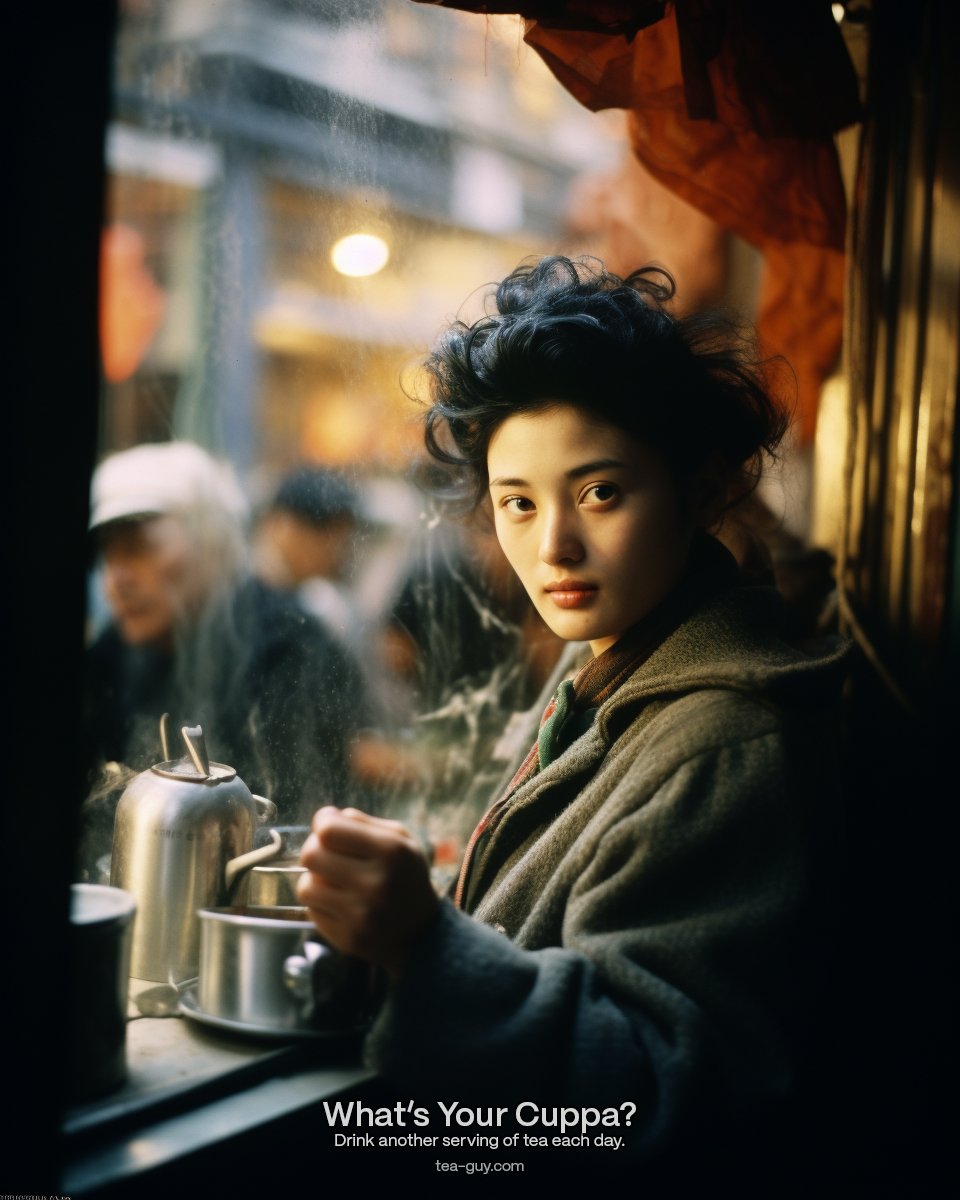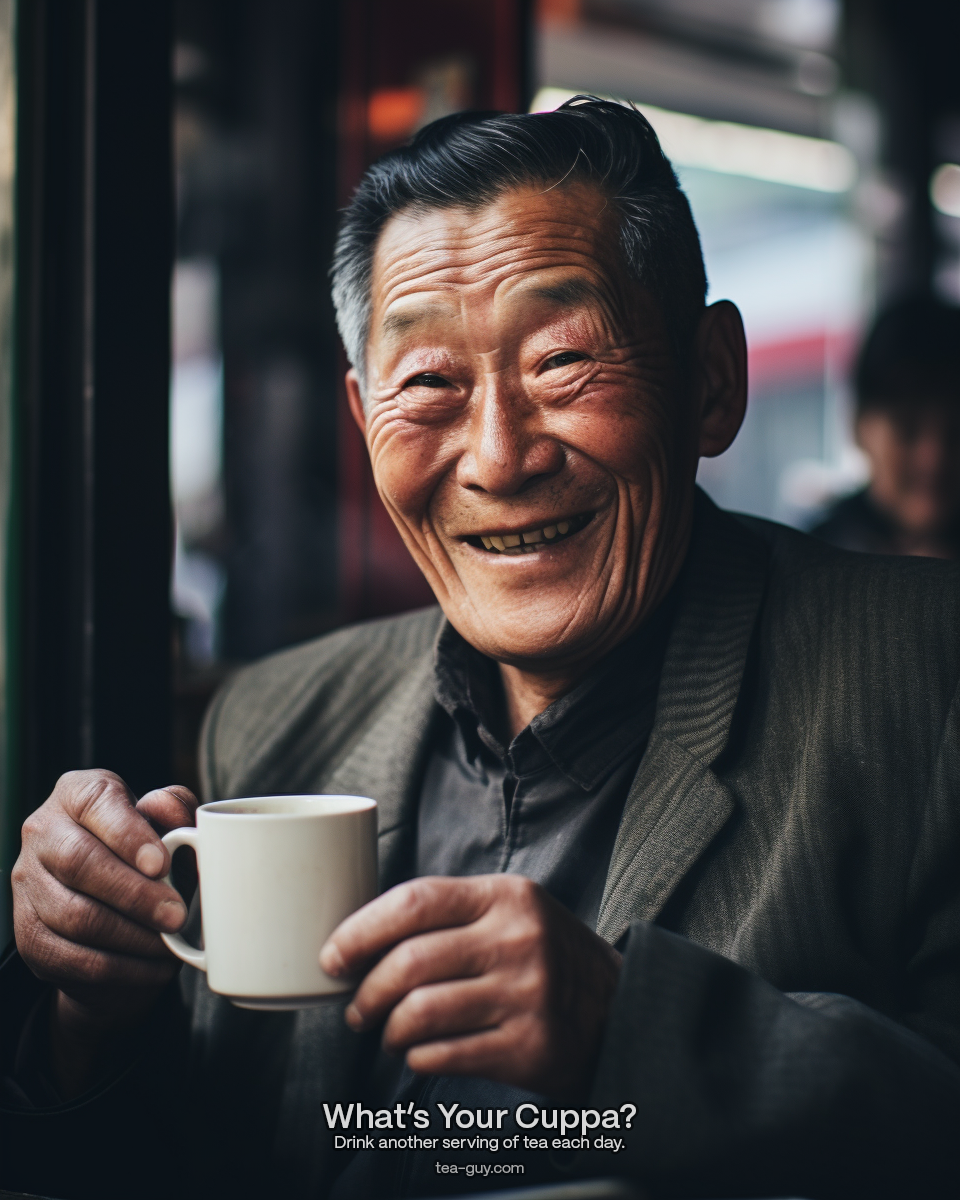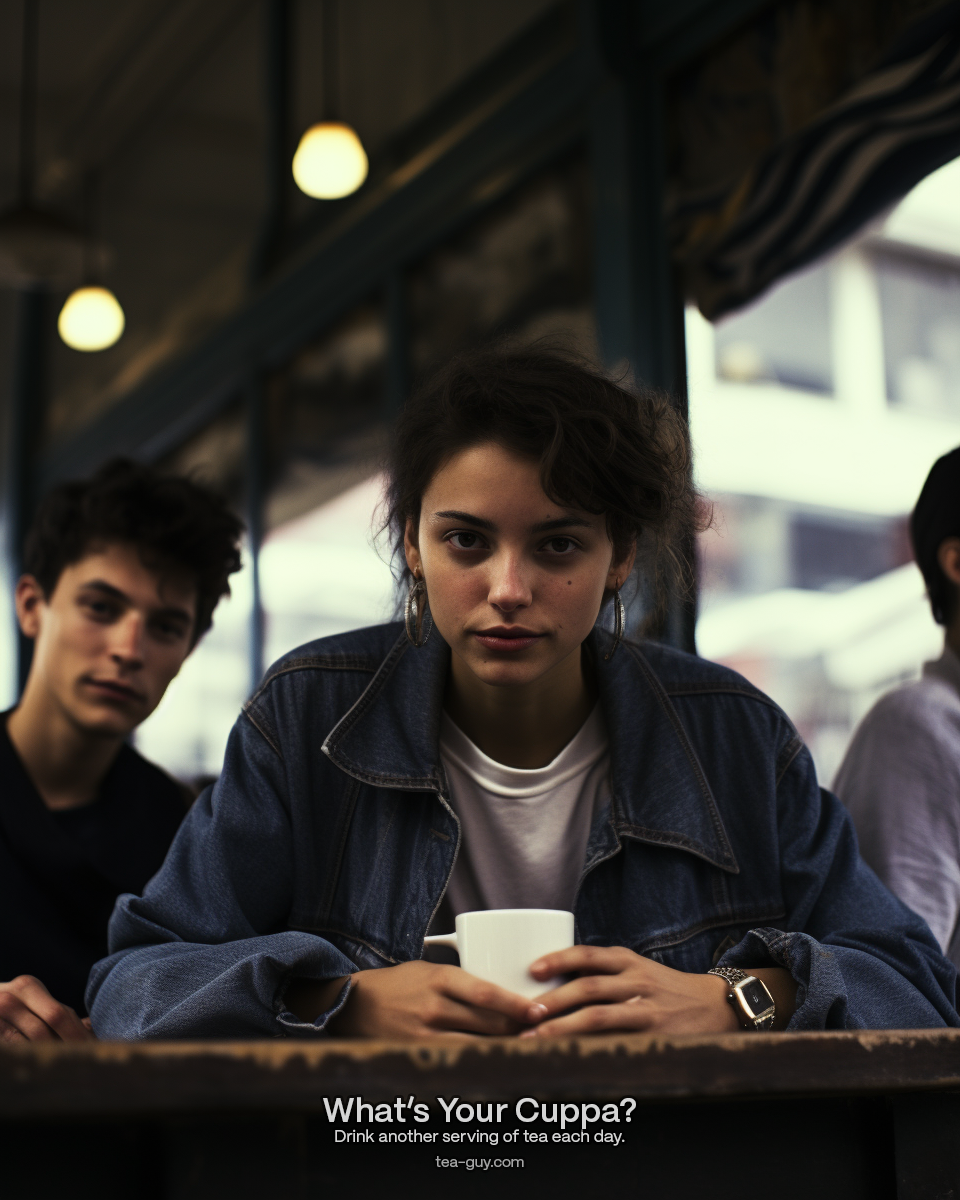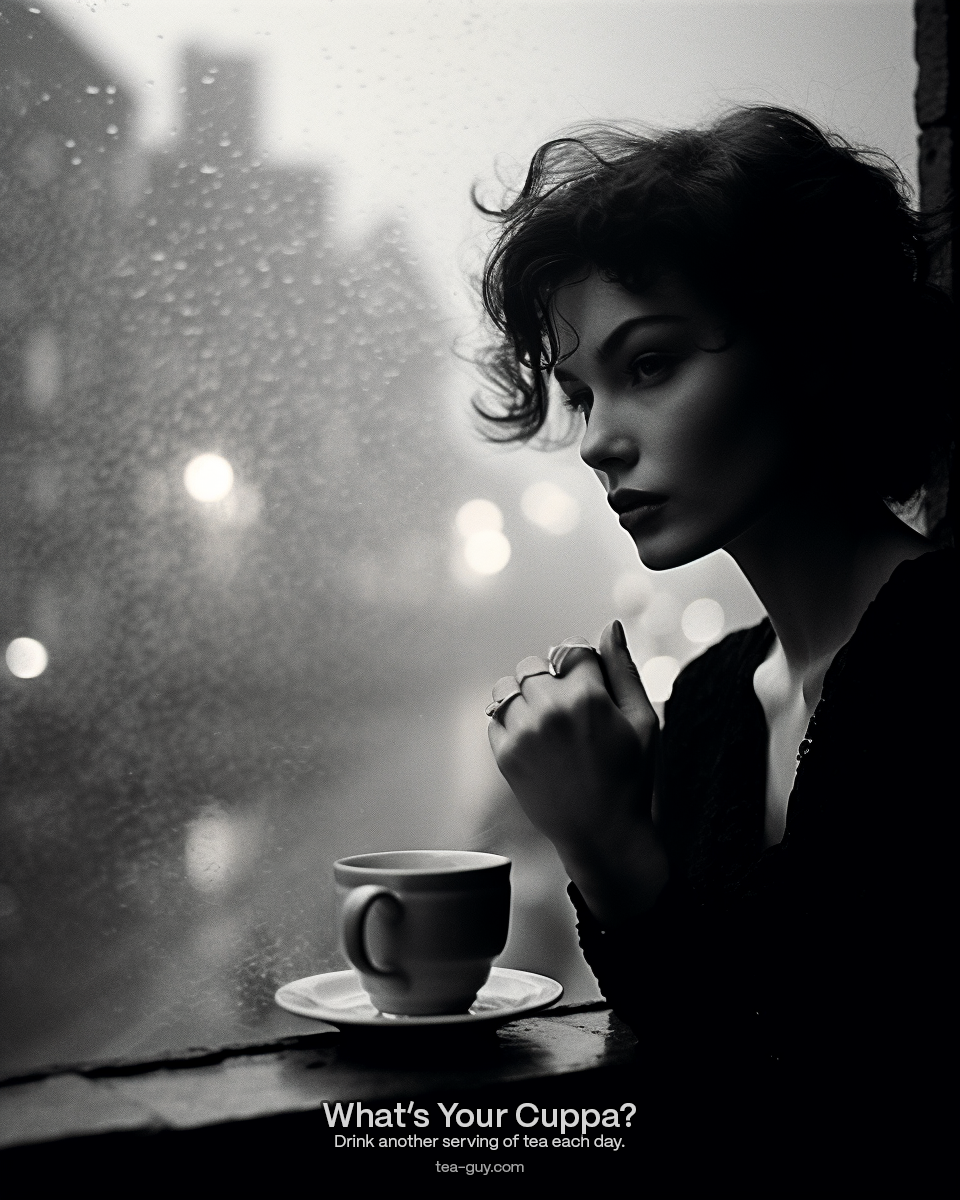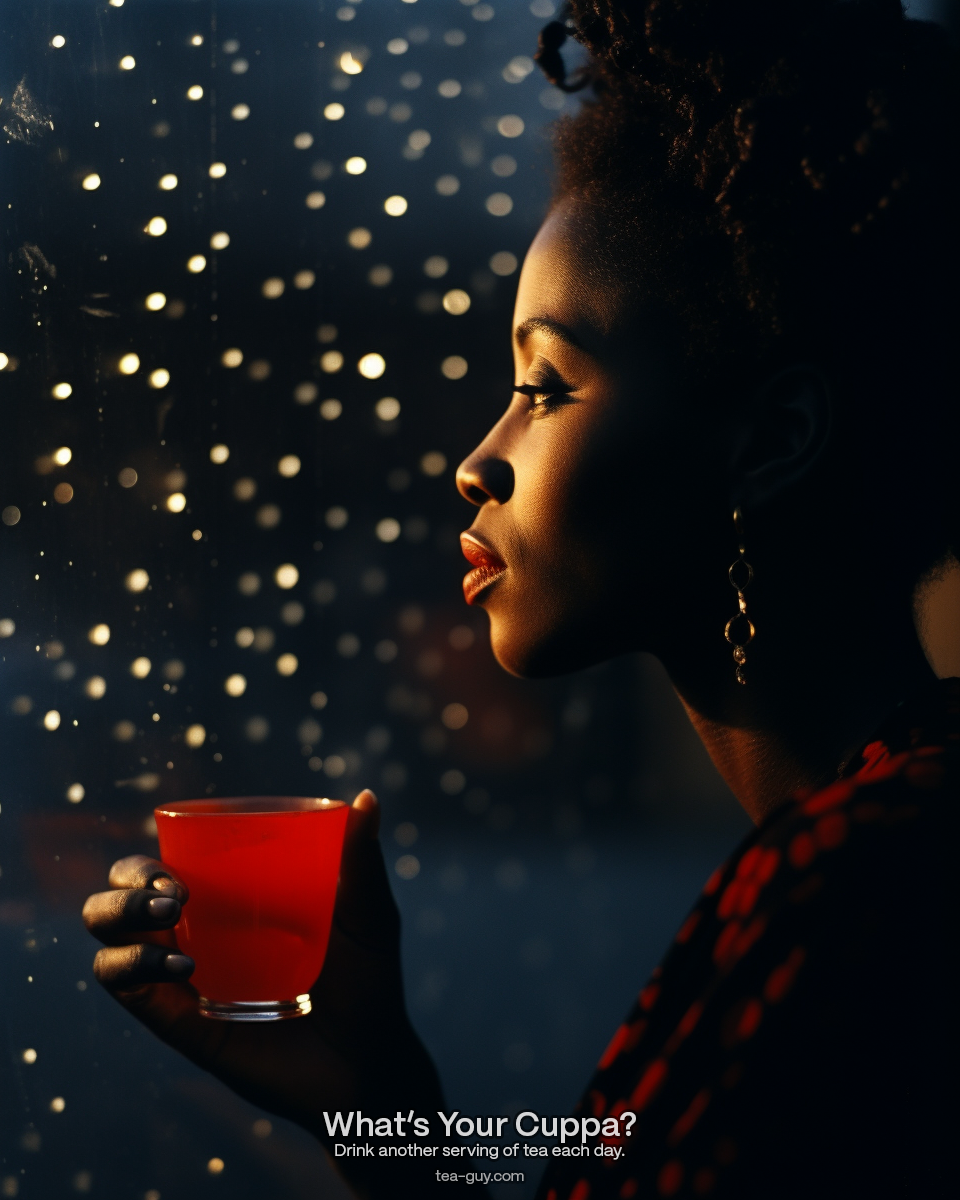 Conclusion
Hopefully, you can see the variability I tried to bring to the campaign. A variety of ages, ethnicities, and cultures.
If I were a professional designer, I could have bolstered the typography and probably improved the photo composition. I could have also been more consistent with the text placement from the image borders. Still, I think I did okay as an amateur here, proving a point.
Nonetheless, I will release each set to Instagram, in a series of posts soon. I may shuffle the sets up when I do since certain ages and ethnicities were grouped together as I generated the images in MidJourney.
---
I hope you enjoyed this post as an experiment with my passion for tea and learnings on MidJourney and other generative AI tools.
Be sure to subscribe for instant notice of new posts, participate in monthly content direction, schedule sessions with me, and more!