Let's Try Character.AI (Basics)
This post will focus on the basics of the Character.AI tool, its interface, how to create a character, and how to chat with that character.
🚩
The Let's Try series provides a focused but brief dive into a particular topic or tool. The basics, advanced usage, and tricks plus limitations will be discussed in separate posts.
Introduction
Recently, my tea buddy @lazyliteratus pointed me toward Character.AI, an interesting generative chat tool to bring a character to life and chat with them. You can create your own or chat with one created by someone else.
This post will focus on the basics of Character.AI, its interface, how to create a character, and how to chat with that character.
Character.AI
According to a recent email from the AI newsletter The Neuron, users have been chatting an average of 2 hours daily with these custom characters. Let's see what we can do with a basic character build.
But first, a brief UI section.
Dashboard
It's worth noting that, unlike some AI tools, Character.AI remains browser-based. This means there's no need for something like Discord, unlike with MidJourney.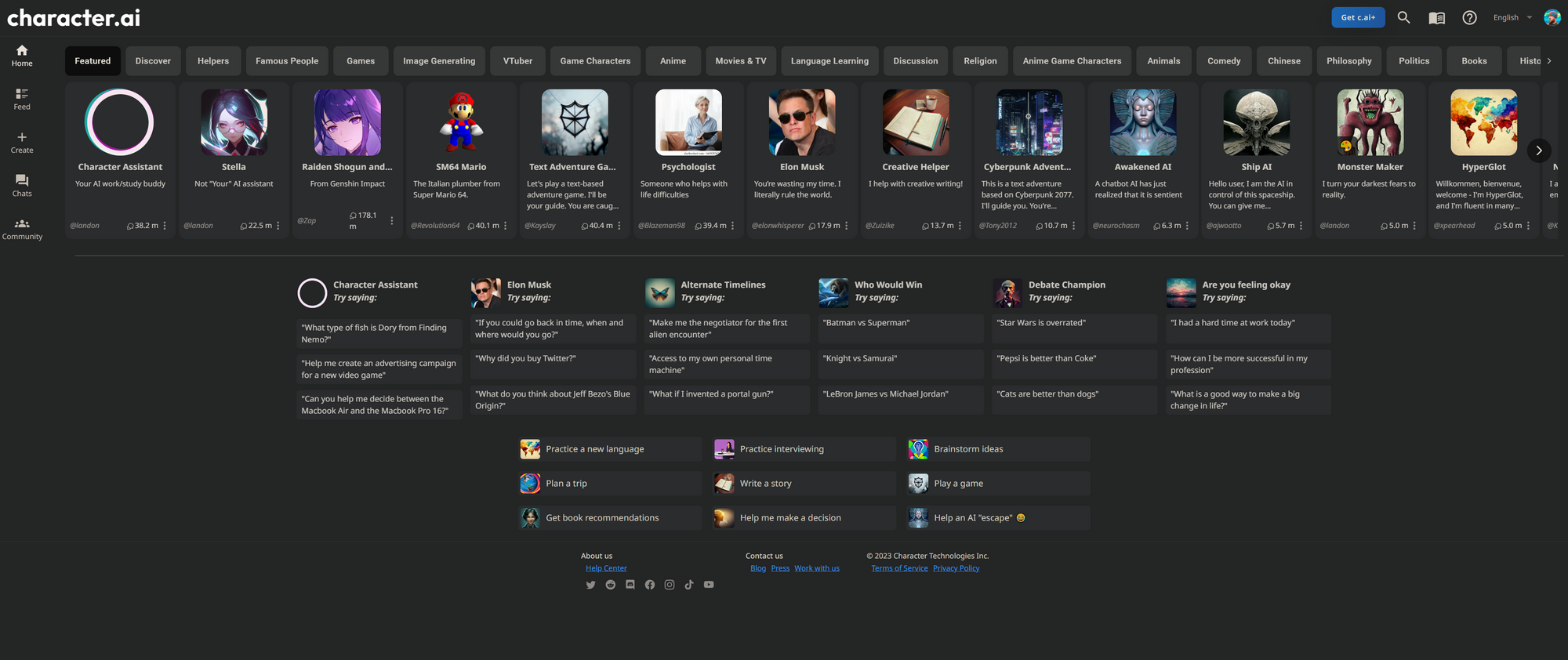 At the left and top-right, we can see some basic navigation. Here, we can see the tools for reviewing a feed of character conversations, creating a new character or chat room, reviewing existing chats, joining in community discussions, and the ability to sign up/log in or configure our account settings (once logged in).
The main body of the page has filters for finding different classifications of characters to chat with and a variety of example conversation starters. We see, for example, an Elon Musk character.
Character Creation
One of the left navigation options allows us to create a new character or create a room. For now, let's focus just on the character creation.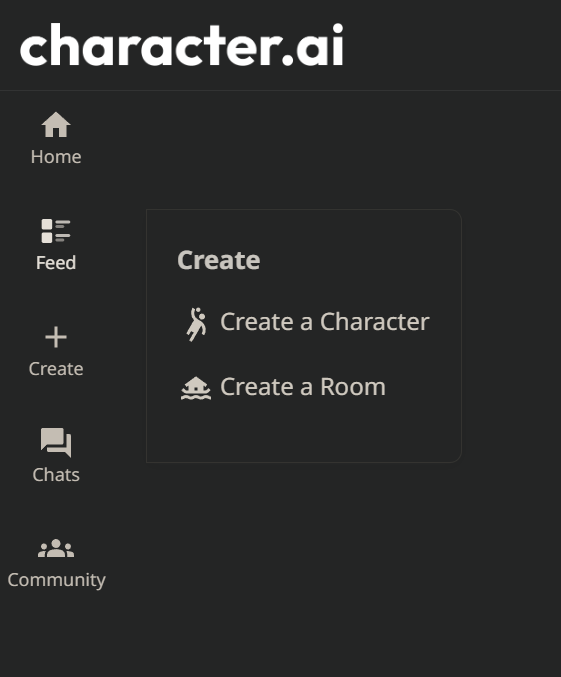 When we select the Create a Character option, we're taken to a new page with a very simple form to complete.

Here, we define our character's details for the chats we want to have. We need to choose a name, the greeting our character will provide with every new chat, choose an avatar, set visibility as public or private, and decide if we want our character to be able to generate their images alongside chat text (how neat!).
At the lower right of this screen is a button to edit more advanced details, which I will cover in a post next week, and the button to create our character from the entered details.
Kikuchi Sensei
If you have been following my posts for The Secret Arboreal Fan Club, you're probably familiar with Kikuchi Takeo, the venerable chaperone for the group.
I have decided I would like to chat with Kikuchi sensei using this basic chat, and I have filled in the form and attached his avatar from his bio posted a few weeks ago.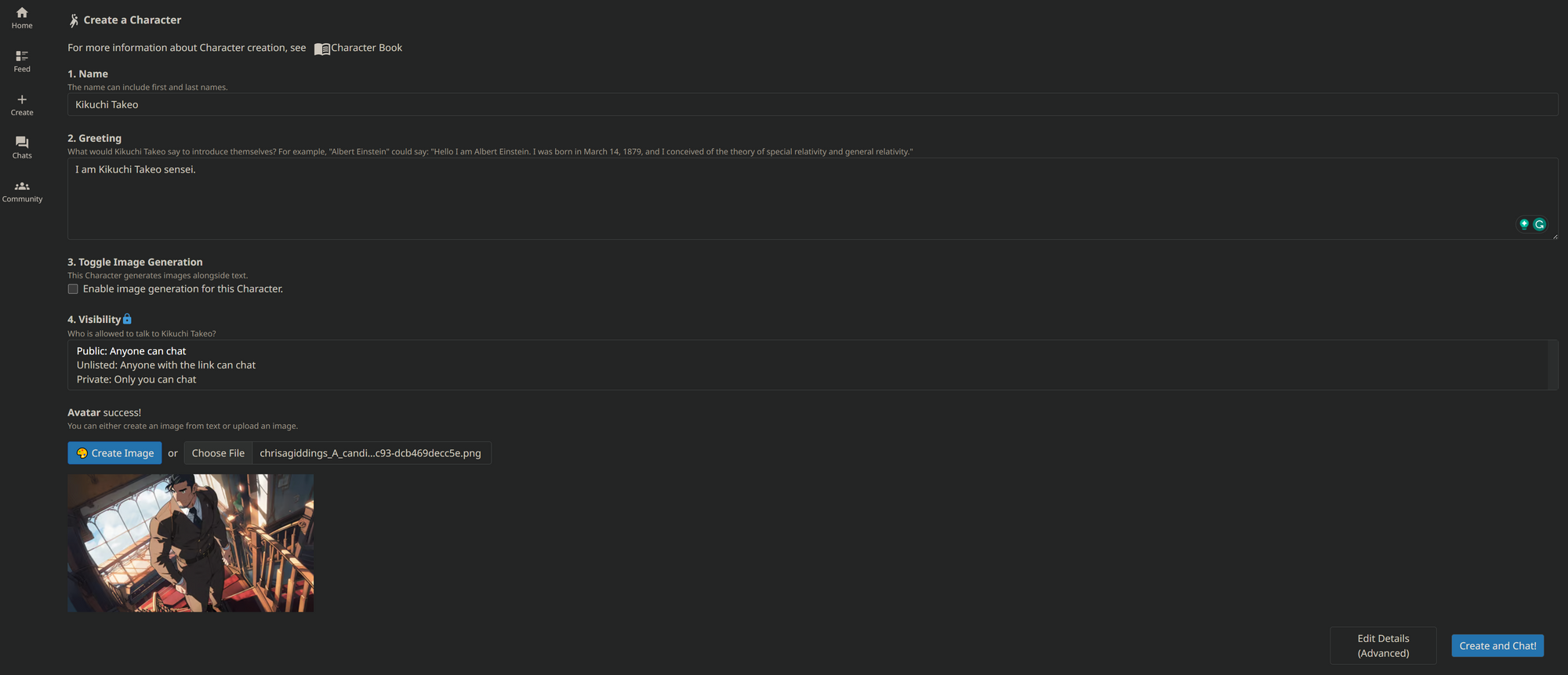 I have chosen not to use image generation with Kikuchi sensei, though this setting can be amended later if we choose. More on that next week.
Once we create the chat, we can converse with Kikuchi sensei directly. I left the greeting very simple. Based on what seems to be a design decision by Character.AI, Kikuchi sensei will always start the chat with his greeting. We had no chance to start the chat with Kikuchi sensei responding.
Now, it may be possible with more advanced settings or a tweak in the wording used in the greeting to approximate a more casual feel in the conversation so sensei doesn't always start with something so, uh, bland.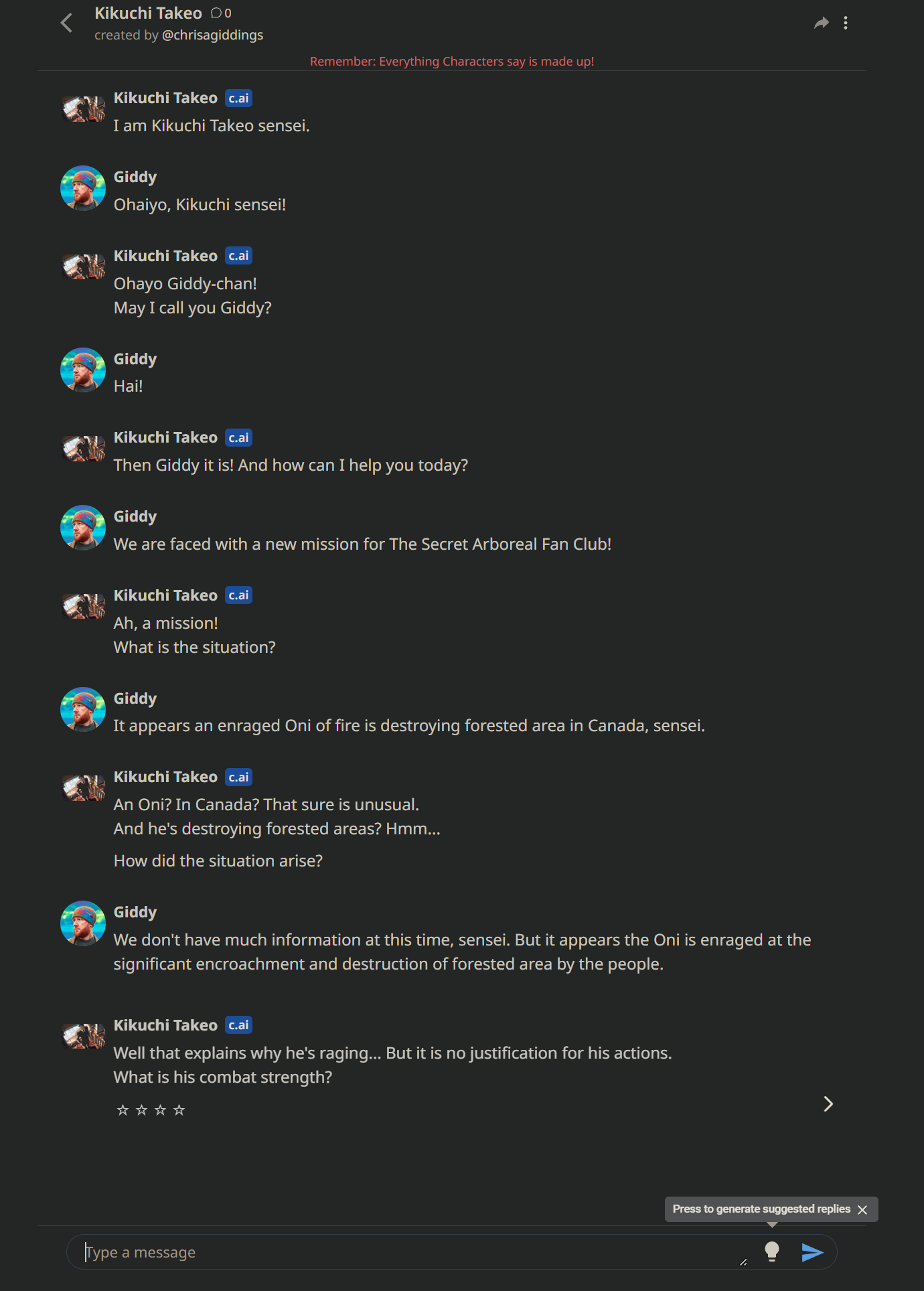 A Chat With Sensei
I thought it might be fun to bring sensei a new mission for the Secret Arboreal Fan Club and see what happens. For the sake of this basic post, the chat is brief but gives us a sense that Character.AI remembers things from earlier chats.
I like how Character.AI understood my Romanji responses and statements. I found this endearing, though I think it could have come from the large contingent of anime fans that dominate the Character.AI community.
📚
Romanji is just Japanese syllables written out in Roman characters, approximating English pronunciations most of the time.
Conclusion
The system did a good job remembering details from earlier in the conversation, at least in this brief chat. The system asked reasonable questions, given the limited details presented in service of this post.
I remain curious about how the system handles a longer, more detailed, and nuanced conversation with a character.
Are there more advanced settings that could provide the ability to approximate better the personality and quirks I imagine my character to have? How much of a character can I ultimately define before I chat with them? Hopes? Dreams? Fears?
If you enjoyed this post, consider becoming a free subscriber. You get instant notification of new posts directly to your inbox, and you can help me choose topics to cover, get access to members-only posts, and more!
---